Interview of the leaders
Interview with
Jean-Yves Dagès,
Chairman, and Thierry
Martel, Chief Executive Officer
A review of 2022, the major challenges facing the Groupama Group, the outlook… Jean-Yves Dagès, Chairman, and Thierry Martel, Chief Executive Officer, share their vision of the Group's current situation. An insight that emphasizes the Group's values.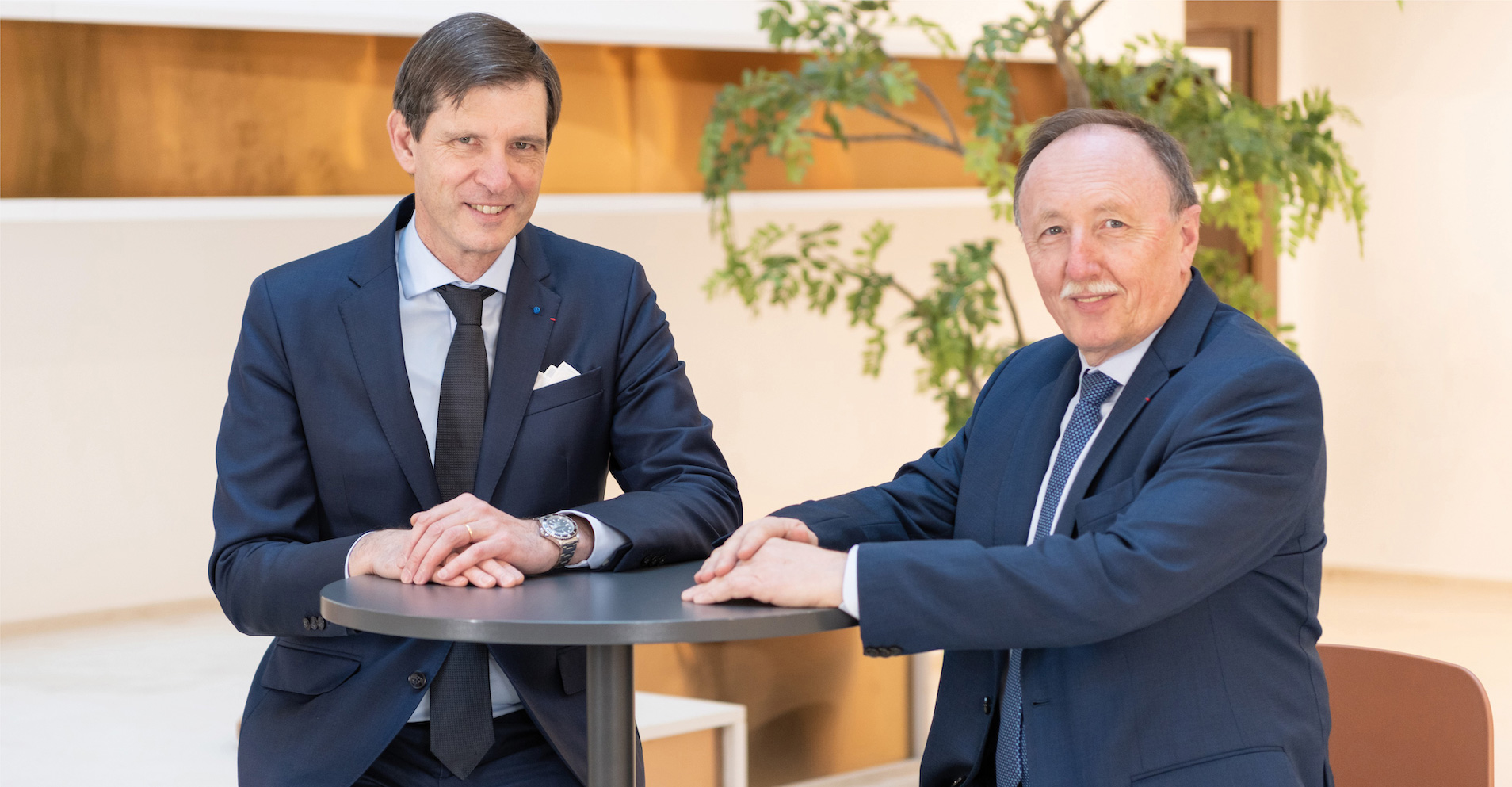 2022 was marked by a difficult geopolitical and economic context. How did the Group perform in this complex environment?
Thierry Martel: The Group posted solid results despite an extremely unfavourable market situation, both in terms of unprecedented climate-related claims and in economic and financial terms, with the acceleration of inflation which increased the cost of repairs and caused interest rates to rise sharply. As such, our premium income continued to rise (+4.3%) to €15.9 billion and our net income held up well, at €454 million. The Group's financial solidity has been strengthened as highlighted by our very solid solvency ratio of 282% (with transitional measure) and the upgrading by Fitch Ratings of our rating to 'A+' with a 'Stable' outlook in June 2022.
Beyond these figures, the most important thing is our people-centred nature. At Groupama, we are building on economic performance for the common good in the territories in which we operate, to help society move forward. And we are proud to uphold these values.
Jean-Yves Dagès: The combination of the war in Ukraine, tensions in Taiwan as well as inflation and the energy crisis have created a complex environment. In terms of climate, the year was marked by exceptional events: storms, hurricanes, hailstorms, droughts etc. Our results show the commitment of everyone, day in and day out. Our employees have invested, displayed boldness and challenged the impossible in this uncertain and complex environment. Their commitment is our collective pride.
Proximity is a key Groupama value. How was it reflected in 2022 in terms of the attention paid to your customers and partners in the territories in which you operate?
Jean-Yves Dagès: Our customers and members are at the heart of our activities. I'd like to remind you of our corporate purpose: We are here to help as many people as possible build their lives with confidence The greatest figure we can boast is the number of people who share our mutualist values and for whom we must provide the best service. Our strength is being in a position to listen to our customers and to provide them with solutions with empathy and kindness. This spirit of service permeates the entire company, in both the front and back office.
Thierry Martel: Proximity is also embodied by our local roots and the reach of our network. We currently have an on-the-ground presence that is undoubtedly one of the strongest in the insurance sector, through our agencies and network of elected members. This mutualist model is a real asset on the ground, thanks to the joint commitment of the elected members and employees to our members and customers.
Proximity also takes shape in our prevention efforts. In our role, we actively reach out to members to encourage them to take risk prevention measures. The public training courses in life-saving techniques that are conducted by our local teams are a perfect illustration of this.
« Our strength is being in a position to listen to our customers and to provide them with solutions with empathy and kindness. »

JEAN-YVES DAGÈS CHAIRMAN
of French people consider that insurers have an essential role to play to face cybercrimes (according to a survey by ELABE for France Assureurs)
Being close also helps to manage risks properly. How do you handle these risks?
Thierry Martel: Our business is effectively managing risk. Risk is at the heart of progress, at the heart of any society; it is consubstantial with human nature and we must be there to support it. The risks we have to manage today have little in common with those that the founders of the insurance company dealt with in the 19th century. However, we are constantly adapting to meet current needs. We will continue to do so, at our level, thanks to our corporate culture that offers plenty of room for the spirit of initiative and of the profession. Today we're working alongside insurers to put forward common proposals on social issues.
How do you approach these new challenges, whether climatic, demographic or technological?
Thierry Martel: The beginning of the 21st century has seen a period of transition. I'm thinking, for example, of cyber technology, the rise of addiction, the emergence of pandemics. These are all phenomena that we must be able to understand, measure and anticipate.
These transitions carry risks, but are also potentially rich with opportunities, provided that sufficient investment and time is dedicated to them. And the essence of mutualism is knowing how to manage the long term.
On the climate front, 2022 was considered a serious year; however in 2050, a year like 2022 will simply be considered normal, unremarkable and even low-intensity. This is why we're actively taking part in the fight against global warming in three ways. First, by committing to the efficiency of our own activities: we absorb carbon through our forest assets and reduce our emissions. Second, by implementing proactive policies to invest in the most virtuous corporates in terms of energy transition. Finally, we are accelerating research and development for our protection and prevention systems.
Jean-Yves Dagès: As part of our CSR approach, which applies to all our activities, we're supporting our members and customers in these transitions. We're helping our agricultural customers to adapt: by installing anti-hail nets on orchards, by managing water resources differently etc. And – don't forget – we were the ones to initiate the crop insurance reform, which offers much broader and much more effective coverage against climatic hazards.
We're at the forefront of the production of biogas and photovoltaic electricity, and more broadly, of all energy transition projects in the field. We're also investing in new technologies, such as automation in agriculture, which help to reduce carbon emissions. And beyond their ecological advantages, these transitions offer us opportunities to create significant value.
Building is what Groupama is all about. We've evolved, we have a pioneering spirit; and this pioneering spirit – this capacity for innovation – is something we must preserve for the future in order to properly support the transition.
« The Group is showing solid results despite an extremely unfavourable market situation, both in terms of unprecedented climate-related claims and in economic and financial terms. »

THIERRY MARTEL CHIEF EXECUTIVE OFFICER