Where our commitments come to life
Human
values
Groupama's mutualist nature means that we prioritise people and meaning. Across all of our entities, we recruit people – not diplomas – which means that our committed teams are made up of great personalities, serving our members and customers and sharing positive stories.
Giving meaning to skills
Groupama has developed a dynamic job and skill management policy, promotes inter-company mobility and invests heavily in training for its teams. At least 98% of employees of the Group's corporates in France completed at least one training course in 2022.
Furthermore, the Group's entities have reaffirmed their desire to promote diversity and inclusion with specific initiatives for equality, parenthood and disability. The equality indexes of the Group's corporates are increasing and are scoring very highly, with up to 97 points out of 100.
Prioritising quality of life at work
As a supporter of ethical values that are conducive to personal development, the Group wants to maintain and develop a high quality of life at work, which will benefit both individual and collective performance. This commitment is reflected in initiatives to prevent psychosocial risks and to support employees facing difficult situations in their professional and personal lives.
Promoting the CSR culture
Finally, the Group is strengthening its Native CSR approach across all of its business lines and activities. For example, a digital eco-design approach for IT projects has been implemented, and Groupama joined the Union des Marques FAIRe programme for responsible communication. Groupama also places emphasis on encouraging employees to use resources sparingly. In 2022, the Group stepped up its ambition to reduce its carbon footprint.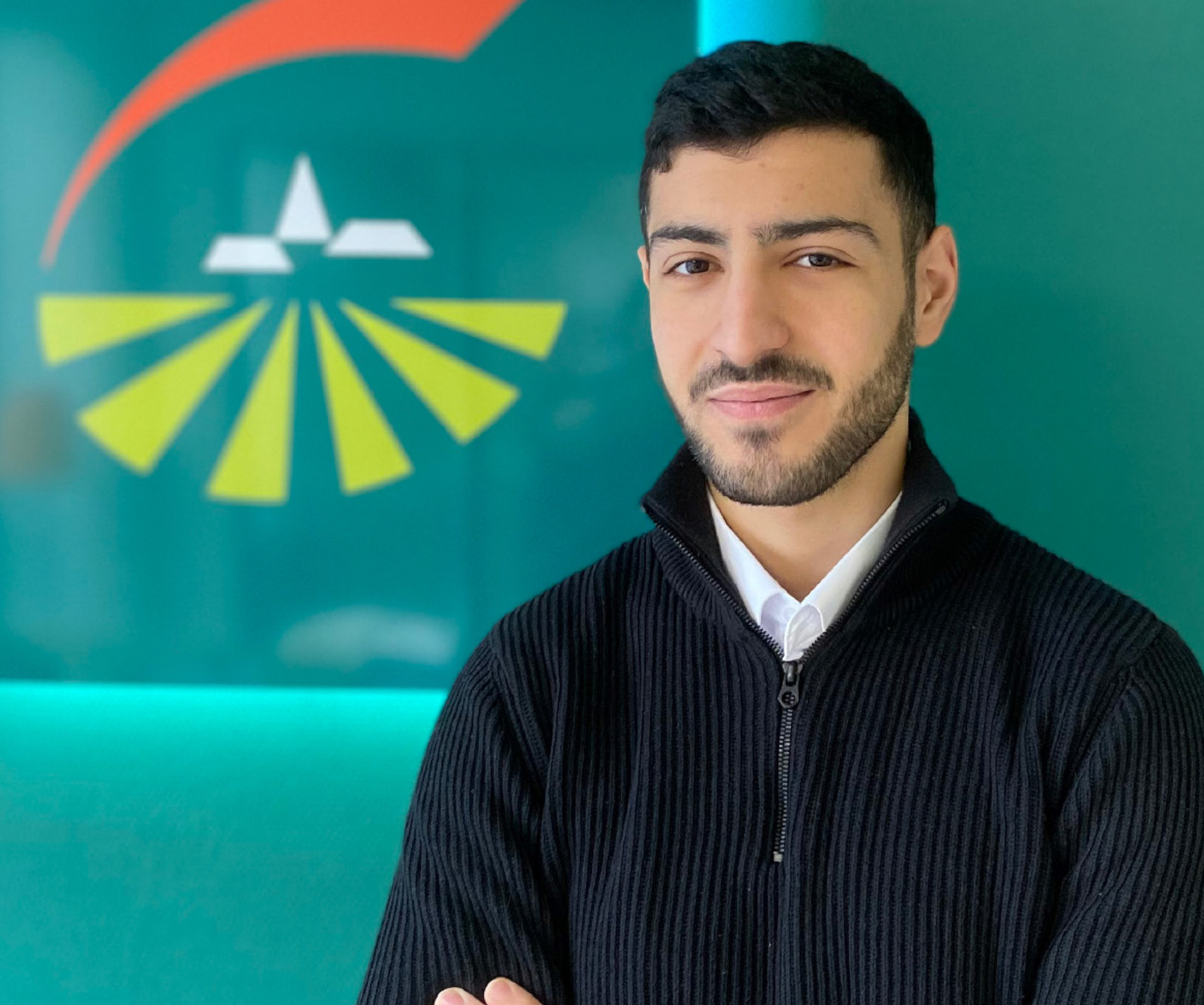 Establishing a relationship of trust with members and customers to offer them the right insurance, saving and banking solutions is all in a day's work for Nayel Allalou, Sales Consultant at Groupama Nord-Est. and fully involved in Groupama's development. Here, he talks about his induction, his day-to-day work at the Reims agency and his commitment to mutualist values.
Why did you choose Groupama?
Before applying, I did a lot of research into the company and everything I found was positive, especially when it came to the working conditions and environment. I was also reassured by the Group's stability and reputation. My job interviews made it clear to me that, as a Sales Consultant, I would be supported, trained and challenged how I wanted to be. It all seemed to match up with what I was looking for, so I decided to join Groupama.
How did your integration into the sales network go?
In September 2022, I started with a two-week agency internship and then took a complete training course focusing on the full range of insurance, saving and pension products. At the agency, I received support from my manager and a supervisor, who helped with my day-to-day work and were able to answer all my questions. It felt like there was a clear pathway for me and I was able to gradually improve my skills. During the training I took part in a 10-week sales challenge in real-world situations in the field to make sure the job was right for me. I held my first customer meetings, on the phone and in the agency, and started to develop my portfolio. At some of the meetings, a technical sales facilitator was on hand to help me improve my sales technique. Thanks to this carefully designed induction programme, I felt completely ready to start working on my own as early as mid-December. What's more, I know that additional training is available if I want it.
« It felt like there was a clear pathway for me and I was able to gradually improve my skills. »

NAYEL ALLALOU
How do you manage your people-centered interaction with members and customers?
Groupama identifies strongly with enhancing customer relationships. The idea is to support members from the very beginning through regular follow-ups and satisfaction surveys. My role is to "add a human touch" that cements a high-quality relationship over the long term by being proactive and going above and beyond my customers' expectations to support their projects, offering them new services to meet their needs. In my day-to-day work, I personally follow up on claims for every customer and make sure that none of their questions go unanswered. I'm there for them during what can be difficult times in their life (death, inheritance, loss of independence etc.).
What Groupama values motivate you in your day-to-day work?
Groupama isn't like other insurers. I live by its values every day. First of all, proximity: I maintain regular contact with my customers, either in the agency or at local events. Responsibility, too: I make it my business to prevent risks to my customers. My role isn't just to sell insurance; it's to advise members, encourage them to be vigilant and suggest concrete solutions to prevent the need for claims.
Do you have a genuine sense of well-being at work?
Absolutely. Coming to work every morning makes me happy. The atmosphere at the agency, and my relationships with my colleagues and superiors, are excellent, which obviously plays a part in my well-being at work. What's more, if I have any issues, I can speak freely and openly to my manager. It's like a little family, really.
« The atmosphere at the agency, and my relationships with my colleagues and superiors, are excellent, which obviously plays a part in my well-being at work. »

NAYEL ALLALOU